Disney Child Star Bella Thorne and Snoopy hosted a Twitter Party this past Sunday, to promote  The Peanuts playing Carnegie Hall on December 21, 2013!
That's right, Carnegie Hall's Weill Music Institute presents "A Charlie Brown Christmas" in a special holiday Family Concert with The New York Pops and Music Director Steven Reineke. This staged concert version of Charles M. Schulz's iconic television special brings the beloved Peanuts characters to life with voices by child actors from the TADA! Youth Theater and special choreography performed by New York Theatre Ballet's talented young dancers. Renowned puppeteer and actor John Tartaglia (Avenue Q, Sesame Street) will narrate the heart-warming story, underscored by the music of Vince Guaraldi, and featuring the dynamic Essential Voices USA led by Judith Clurman.
WHEN: Saturday, December 21 at 2:00 p.m.
WHERE: Stern Auditorium/ Perelman Stage
If you can't make it to the concert your kids can still watch the Peanuts gang two more times in Peanuts specials airing on ABC in December (all times are EST/PST on ABC)
"I Want a Dog for Christmas, Charlie Brown" airs Friday, December 20th from 8–9 p.m
"Happy New Year, Charlie Brown"/"You're a Good Skate, Charlie Brown" airs Monday, December 30 from 8–9 p.m.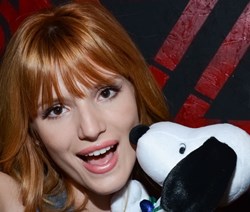 "Nobody brings joy to the holiday season quite like the Peanuts gang, and we're delighted to offer fans so many ways to celebrate this year," says Leigh Anne Brodsky, Managing Director of Peanuts Worldwide. "You can chat with Snoopy and Bella Thorne on Twitter, join a musical celebration at Carnegie Hall, enjoy a multitude of Peanuts gifts, and of course, revel in the annual tradition of the iconic TV special. Charlie Brown, Snoopy and all the beloved characters are guaranteed to put you in the holiday spirit!"
About Bella Thorne 
Bella Thorne, a star of the hit Disney Channel original series "Shake It Up" plays dancer 'Cece Jones'.  Bella recently returned from filming the Adam Sandler and Drew Barrymore comedy "Blended" in South Africa and has wrapped production on Disney's "Alexander and the Terrible, Horrible, No Good, Very Bad Day" as well as the independent film "Big Sky" opposite Kyra Sedgwick. She is currently in production for Silver Pictures' Home Invasion and Thorne has also signed a three book deal with Random House titled Autumn Falls. The first book is scheduled to be released in Summer 2014.
Triple threat Thorne recently expanded her talent in the music arena with her first solo single TTYLXOX which was included on the Shake It Up soundtrack and not only making it on the Billboard 100 charts but has sold close to 500,000 singles to date. Thorne has been topping the charts at Radio Disney with Bubblegum Boy and recently collaborated with IM5 (brought together by American Idol's Simon Fuller, celeb blogger Perez Hilton, and tour producer Jamie King) with the single Can't Stay Away. Following the successful release of her independent tracks, Thorne embarked on a new journey and recently signed with Hollywood Records with new music slated for Spring 2014.